AFL 2018 Round 4: Geelong Cats v St Kilda Saints; Match preview and teams
April 13, 2018
AFL ROUND 4 2018, GEELONG CATS V ST KILDA SAINTS CATS, GMHBA STADIUM, SUNDAY 15 APRIL 2018, 16:40 AEST
Ben Jensen, April 13 2018 GEELONG has made four changes, three of them forced along with the omitted James Parsons, to its side to play St Kilda in the first Geelong-based game at the newly renamed GMHBA Stadium this Sunday. The Cats were dealt a blow with injuries to Gary Ablett, Nakia Cockatoo and Cameron Guthrie in the round 3 loss to West Coast at Optus Stadium. Ablett (hamstring) is the main talking point, set to miss at least three weeks. Cockatoo however is just as much of a worry longer-term, out for anything up to 4-5 weeks with a posterior cruciate ligament in his right knee – Cockatoo has missed around half the games through injury the last couple seasons. Guthrie hurt an ankle and today it was confirmed he had surgery, and will be out for anywhere up to and possibly beyond 8 weeks.
Key defenders Harry Taylor and Lachie Henderson remain on the injury list and won't be considered for selection for weeks to come, Henderson appearing to be far closer to a return than Taylor who may be out another 10 weeks. Mitch Duncan should be right to return however and has been named in the side, and a recognised ruckman of some description with both Rhys Stanley and Zac Smith named as inclusions. Charlie Constable is a potential first-gamer, named as an inclusion on the eight-man bench. Other inclusions are Jordan Cunico, Jordan Murdoch and Jackson Thurlow. Of the inclusions only Stanley is named in the starting line-up, the remainder including Duncan on the 8-man interchange, to be trimmed to four on Friday.
St Kilda has named six inclusions, none of them however are Mav Weller. Coming in are Sam Gilbert, Tom Hickey, Jack Steele, Hunter Clark, Jack Lonie, Logan Austin. Out are Jimmy Webster and Nathan Wright. This is the first time St Kilda have travelled to Geelong since 2014, a venue they have not won at since 1999. Some tickets remain on sale but get in quick. Geelong beat the Demons (just) in round one before losing in the Easter Monday nail biter to Hawthorn while last put in a shocker of a second quarter against West Coast they seemed to have recovered from but injuries took their toll, the Eagles running over the Cats in the final ten minutes to win by 15 points. The general consensus is the Saints have not started the year well though like the Cats they won their round 1 game (against the Lions at Etihad Stadium), before being thrashed in the infamous Good Friday game by North Melbourne and Adelaide at the same venue last round.
The key questions Cats fans will be looking to have answered is who will be named in the ruck, and what 'late change' will be made this round. Zac Smith was preferred in round 1 with Rhys Stanley consigned to the VFL, but Smith lasted all of one match before he and Stanley swapped places. Stanley kicked two goals in the Easter Monday loss but didn't set the world on first in the ruck. Last round the late change, which 100% of people assumed would be Scott Selwood coming in to play against his old side the Eagles, materialised but the jaw dropper was the late exclusion was Stanley. This left on paper Geelong's most experienced (part-time) ruckman Mark Blicavs who in the event started on the interchange leaving Esava Rutagolea to face Nic Naitanui at the opening bounce.
In the VFL the Cats play St Kilda affiliate Sandringham in a curtain-raiser (match details and teams are provided further down in this article).

GEELONG FINAL TEAM
IN: Rhys Stanley, Jordan Cunico, Mitch Duncan, Jordan Murdoch
OUT: Gary Ablett (hamstring), Cameron Guthrie (ankle), Nakia Cockatoo (knee – PCL), James Parsons

B: Zach Tuohy, Jack Henry, Tom Stewart
HB: Jed Bews, Jake Kolodjashnij, Zach Guthrie
C: Mark Blicavs, Joel Selwood, Scott Selwood
HF: Sam Menegola, Esava Ratugolea, Brandan Parfitt
F: Daniel Menzel, Tom Hawkins, Cory Gregson
FOLL: Rhys Stanley, Patrick Dangerfield, Tim Kelly
INT: Jordan Cunico, Mitch Duncan, Lachie Fogarty, Jordan Murdoch
EMER: Charlie Constable, James Parsons, Zac Smith, Jackson Thurlow

ST KILDA SAINTS FINAL TEAM
IN: Sam Gilbert, Tom Hickey, Jack Steele, Jack Lonie
OUT: Jimmy Webster (unknown injury), Josh Bruce (unknown injury), Nathan Wright, David Armitage

B: Jarryn Geary, Nathan J. Brown, Dylan Roberton
HB: Sam Gilbert, Jake Carlisle, Shane Savage
C: Brandon White, Luke Dunstan, Jack Newnes
HF: Jack Sinclair, Paddy McCartin, Jack Billings
F: Jade Gresham, Blake Acres, Ben Long
FOLL: Rowan Marshall, Sebastian Ross, Jack Steven
INT : Tom Hickey, Jack Steele, Jack Lonie, Nick Coffield
EMER: Hunter Clark, David Armitage, Logan Austin, Josh Bruce

GEELONG INITIAL TEAM
IN: Rhys Stanley, Charlie Constable, Jordan Cunico, Mitch Duncan, Jordan Murdoch, Zac Smith, Jackson Thurlow
OUT: Gary Ablett (hamstring), Cameron Guthrie (ankle), Nakia Cockatoo (knee – PCL)
NEW: Charlie Constable
B: Zach Tuohy, Jack Henry, Tom Stewart
HB: Jed Bews, Jake Kolodjashnij, Zach Guthrie
C: Mark Blicavs, Joel Selwood, Scott Selwood
HF: Sam Menegola, Esava Ratugolea, Brandan Parfitt
F: Daniel Menzel, Tom Hawkins, Cory Gregson
FOLL: Rhys Stanley, Patrick Dangerfield, Tim Kelly
INT (FROM): Charlie Constable, Jordan Cunico, Mitch Duncan, Lachie Fogarty, Jordan Murdoch, James Parsons, Zac Smith, Jackson ThurlowL
ST KILDA SAINTS INITIAL TEAM
IN: Sam Gilbert, Tom Hickey, Jack Steele, Hunter Clark, Jack Lonie, Logan Austin
OUT: Jimmy Webster (unknown injury), Nathan Wright
NEW: Logan Austin
B: Jarryn Geary, Nathan J. Brown, Dylan Roberton
HB: Sam Gilbert, Jake Carlisle, Shane Savage
C: Brandon White, Luke Dunstan, Jack Newnes
HF: Jack Sinclair, Paddy McCartin, Jack Billings
F: Jade Gresham, Blake Acres, Ben Long
FOLL: Rowan Marshall, Sebastian Ross, Jack Steven
INT (FROM): Tom Hickey, Jack Steele, Hunter Clark, Jack Lonie, David Armitage, Logan Austin, Josh Bruce, Nick Coffield
AUSTRALIAN TV COVERAGE (LOCAL TIMES)
Melbourne Fox Footy (LIVE – 16:30)
Adelaide Fox Footy (LIVE – 16:00)
Perth Fox Footy (LIVE – 14:30)
NSW (Sydney) Fox Footy (LIVE – 16:30)
Queensland (Brisbane) Fox Footy (LIVE – 16:30)
ACT Fox Footy (LIVE – 16:30)
NT (Darwin) Fox Footy (LIVE – 16:00)
Tasmania Fox Footy (LIVE – 16:30)
AFL RADIO COVERAGE (LOCAL TIMES)
Melbourne KROCK, SEN, 3AW, ABC
Adelaide 5AA, ABC
Perth ABC, 6PR
Sydney –
Brisbane –
Canberra –
Darwin ABC

INJURY LISTS
GEELONG
Updated 11/4/2018 (generally all official info other than the text in italics)
Mark Blicavs Cut after crashing into Perth Stadium fence Available Will play
Zach Tuohy Cut after crashing into Perth Stadium fence Available Will play
Gary Ablett Hamstring 3-6 weeks Will miss
Nakia Cockatoo Knee (PCL) TBC Will miss – The Cattery expects up to 1 month
Mitch Duncan Hamstring Available Will play
Cam Guthrie Ankle TBC Will miss
Lachie Henderson Knee 1-2 weeks
Lincoln McCarthy Quad 1-2 weeks
Quinton Narkle* Knee TBC
Harry Taylor Foot TBC Will miss – Friends of The Cattery expect 10 weeks
ST KILDA
Updated 11/4/2018
Nathan Freeman Hamstring 4-5 weeks
Doulton Langlands Glandular fever 1 week
Billy Longer Groin Test
Daniel McKenzie Concussion 1 week
Tim Membrey Knee 1-2 weeks
Darren Minchington Knee 6-8 weeks
Mav Weller Hamstring Test Surely he will play
WILL THIS SAINTS FAN MAKE THE TRIP DOWN THE HIGHWAY? [PHOTO FROM ROUND 21, 012 AT ETIHAD STADIUM]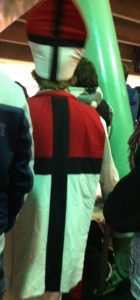 VFL 2018 ROUND 2, GEELONG V SANDRINGHAM, GMHBA STADIUM
SUNDAY APRIL 15 2018, 12:45 AEST
GEELONG TEAM
IN: M. O'Connor, H. Kol, S. McLachlan, M. Duncan, L. Fogarty, J. Murdoch, J. Parsons, J. Gow, S. Dobson
OUT: S. Selwood
B: 62. C. Floyd, 20. R. Gardner, 55. L. Kiel
HB: 15. M. Hayball, 30. T. House, 21. J. Murdoch
C: 31. J. Cunico, 33. G. Horlin-Smith, 40. J. Thurlow
HF: 36. S. Crameri, 12. W. Buzza, 34. J. Parsons
F: 45. R. Abbott, 23. A. Black, 41. J. Jones
FOLL: 9. Z. Smith, 64. T. Atkins, 18. C. Constable
INT (FROM!): 63. S. Dobson, 22. M. Duncan, 13. L. Fogarty, 74. J. Gow, 52. N. Horbury, 68. H. Kol, 65. S. McLachlan, 32. G. Miers, 42. M. O'Connor, 56. B. Reid, 54. S. Siggins, 51. J. Tsitas
23P: 78. J. McLachlan

SANDRINGHAM TEAM
IN: K. Nissenbaum, J. Bruce, R. Connellan, J. Noone, B. Longer, D. Armitage, N. Coffield, B. Miller, J. Hille, N. Wright, M. Weller
OUT: S. Gilbert, H. Mclean, D. McKenzie

B: 45. L. Austin, 37. H. Goddard, 13. J. Noone
HB: 40. O. Clavarino, 61. D. Joyce, 78. B. Rice
C: 46. E. Phillips, 44. H. Clark, 1. D. Weickhardt
HF: 62. R. Connellan, 23. T. Lamb, 17. J. Haidon
F: 15. J. Sziller, 36. J. Battle, 56. N. Wright
FOLL: 60. T. Hickey, 2. K. Answerth, 54. J. Steele
INT (FROM!): 70. D. Armitage, 12. B. Bailey, 58. J. Bruce, 55. N. Coffield, 9. M. Cook, 24. J. Hille, 71. B. Longer, 39. J. Lonie, 52. B. Miller, 50. B. Paton, 3. L. Verma, 57. M. Weller
23P: 14. K. Nissenbaum